EWSI | Governance of migrant integration in Lithuania

Lithuania has historically been a country of emigration, with the number of Lithuanians leaving the country higher than that of immigrants arriving. However, according to Statistics Lithuania, since April 2019, the number of migrants arriving in Lithuania has been higher than the number of people leaving the country, though arrivals remain relatively low within the EU context.
Lithuania first opened its borders to refugees in 1997. The country has since received relatively few applications and has never been seen as a destination country. However, in recent years, Lithuania has been among the key host countries for Belarusians and Venezuelans seeking protection.
Statistics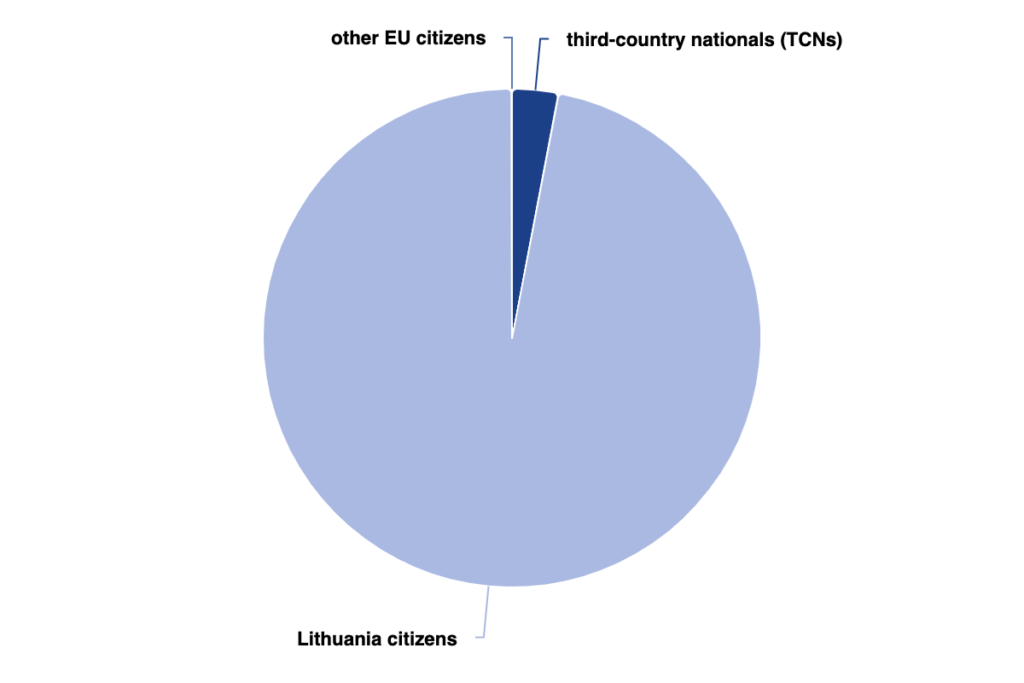 The statistics in the chart above are based on Eurostat's Non-national population by group of citizenship, 1 January 2021, with 70 788 third-country nationals (TCNs) and 8 308 EU citizens living in Lithuania at the time.
In addition, the Latvian national statistics office counted  63 364 TCNs living in Lithuania on 1 January 2020. Out of them, 46 875 had temporary residence permits and 15 251 were permanent residents. Another 945 people had residence cards based on being a family member of a EU citizen, while 83 had permanent residence on the same basis. According to the Migration Department's Migration Yearbook 2019, most TCNs were from the neighbouring ex-Soviet states of Ukraine (23 923), Belarus (17 769) and Russia (12 649).
Early reports inform that foreigners' share in the overall population is on a steady increase – as of 1 January 2021, foreign citizens accounted to 3.12% of current Lithuania's population, meaning that both their number and its share in the population has more than doubled since 2016. Employment has so far been the main reason for issuing both temporary residence permits and national visas.
Despite the increase in labour migration, the number of people seeking asylum in Lithuania has remained rather low. According to figures of the Migration Department, from 2016 to 2019, the number of asylum applications submitted ranged between 423 and 646 per year, and in 2020, it dropped to 321. The majority of asylum seekers were citizens of Russia (in 2019 and 2020), Tajikistan (in 2018) and Syria (in 2016 and 2017). In 2020, Lithuania registered a considerable increase in the number of asylum seekers from Belarus.
Integration strategy
To foster the inclusion of populations of non-EU background, Lithuania's current policy is based on its 2018–2021 Action Plan on the Integration of Foreigners into Society. In 2021, implementation of the action plan was extended an additional year. The document includes provisions regarding the allocation of resources, cooperation among state institutions and service providers, and the monitoring of migrant integration. In particular, the current action plan focuses on:
joint language and vocational training courses
fighting discrimination
empowering migrant and refugee women
monitoring integration policies and processes
creating networks between migrant communities and the receiving society
improving access to the labour market, education, health care, etc.
The previous 2015-2017 Action Plan for the Implementation of the Policy for Foreigners Integration provided for:
information on the accessibility of integration services
campaigns about the positive aspects of migration
a consultative integration body with state and non-governmental actors
an improved law on the recognition of foreigners' professional qualifications
The current action plan is distinct for covering provisions on both migrants and beneficiaries of international protection.
This current Action plan was drafted in line with the Migration Policy Guidelines published in 2014. This document was last amended in 2020, stressing the development of policies towards the diaspora, return and integration of Lithuanian citizens and/or people of Lithuanian descent. In addition, the guidelines have been supplemented by new provisions in relation to collecting information about foreign workers and establishing the system of their quotas. With regards to asylum, the document pushes to increase the flexibility of asylum seekers' reception and accommodation, as well as addresses the need to adjust to irregular flows when it comes to people seeking asylum. In addition, Lithuania sets out to continue relocating persons in need of international protection and, thus, to resolve migration issues faced by its partners in the EU. The guidelines also emphasise the need to formulate a long-term foreigners' integration policy.
In addition, the 2018-2030 Strategy for Demography, Migration and Integration aims to promote decent working and living conditions to foreigners, strong and inclusive local communities, trust in state institutions and a tolerant receiving society. However, with the exception of certain groups of foreigners (namely, foreign citizens who come to Lithuania for the purpose of studies, highly qualified workers, and foreigners who are family members of Lithuanian citizens), the strategy does not aim at comprehensive provisions towards immigrant populations and mainly focuses on promoting the return of citizens of Lithuania and persons of Lithuanian origin. In its current form, the document also does not provide for strategies in relation to beneficiaries of international protection. In addition, it maintains a rather reserved approach towards indicating measures for the long-term integration of non-EU nationals.
Integration programme
Lithuania has an integration programme which is an entitlement rather than an obligation. Foreigners who are applying for or are granted asylum, as well as Ukrainian nationals of Lithuanian background are offered a wide range of integration activities, such as language courses, culture classes, employability advice sessions, assessment of skills, legal assistance, and more. An introduction to the Lithuanian labour market and psychological support are also offered. The integration programme thus covers all:
language courses
civic education
vocational training
Following the granting of refugee status or subsidiary protection, beneficiaries are housed in the Refugee Reception Centre (RRC) where integration support is provided for up to 3 months. After 3 months in the RRC, integration continues in municipalities where support is provided by NGOs and lasts up to 12 months.
While the overall duration of the integration programme generally corresponds to 15 months, both the RRC and municipalities can prolong their integration support – to 6 and 36 months respectively – provided that serves the needs of vulnerable groups (namely, people with physical or mental health problems, large families with young children, people with low leveld of education, and other).
RRC staff members coordinate their efforts for 3 months with social workers and the Lithuanian Labour Exchange to assist refugees in various ways. This includes evaluating personal skills and qualifications, providing vocational training courses and assisting in job searches (and the local Labour Market Training and Consulting Authority also joins in the latter task).
In addition, refugees are able to attend intensive Lithuanian language courses in order to be better prepared to access the labour market. Following the initial 3 months of support provided by RRC staff, NGOs assist refugees withing their municipalities. Support by NGOs is provided through "one-stop-shops" for immigrants and beneficiaries of international protection. NGOs provide ongoing advice to help refugees in various areas of integration, including the labour market. Advisers provide relevant information related to employment in Lithuania, inform about the conditions for starting a business, assist in searching for a work place and registering in the Lithuanian Employment Service.
There is no specific integration programme for other third-country nationals. However, they are entitled to the support provided by NGOs in "on- stop-shops".
Evaluation
There has been no official or unofficial evaluation of the action plan published so far.
The international Migrant Integration Policy Index (MIPEX) points out that Lithuania's integration policies tend to create more obstacles than opportunities for integration. The country scores only 37 out of 100 points on the MIPEX 2020 scale, with the average score being 49. Just like most other Central and Eastern European states, Lithuania is therefore classified as providing 'equality on paper'.
Legislation
Law on foreigners
The Law on Legal Status of Aliens was adopted in April 2004. It covers the procedures of entry and departure, residence, asylum and temporary protection, as well as the integration of aliens. In January 2020, amendments to the Law granted asylum seekers the right to work provided that within 6 months from the date of submitting the application for asylum, the Migration Department fails to make a decision and such situation does not origin from the fault of an asylum seeker.
Asylum law
Lithuania does not have a self-standing asylum law. The Law on Legal Status of Aliens covers asylum.
Integration law
Lithuania does not have a self-standing integration law. The Law on Legal Status of Aliens covers integration.
Its provisions have been supplemented by the Decision of the Government regarding the Procedure for the Provision of National Support for Integration to Persons Granted Asylum (with recent amendments emphasising that integration is a mutual process that involves both persons who were granted asylum and the receiving state and society), as well as other decisions which foresee integration measures for other groups of foreigners.
Citizenship law
The Lithuanian Law on Citizenship was introduced in December 2010. This legislation established the basic rules, conditions and processes for the acquisition and stripping of Lithuanian citizenship. Minor amendments made in June 2016 allowed individuals who left Lithuania before March1990 to keep their Lithuanian citizenship when they acquire a second one.
Anti-discrimination law
The Law on Equal Treatment, approved in November 2003, ensures the enjoyment of human rights and prohibits all forms of discrimination on the grounds of age, sexual orientation, racial or ethnic background, disability and religion or belief. It also outlines acts of individual and institutional violations and mandates the Equal Opportunities Ombudsman to supervise complaints, investigations and appeals processes. The latest amendment of the law was made in July 2017 and introduces corrections related to employers, advertising and consumer protection.
Public authorities
The Ministry of Social Security and Labour is the main responsible body for matters relating to the integration of foreigners. It is the leading institution coordinating the implementation of the action plan for integration and represents Lithuania at the European Integration Network. However, other institutions, such as the Migration Department of the Ministry of the Interior, the Ministry of Education, Science and Sport, the Ministry of the Economy and Innovation and the Ministry of Health, are responsible for specific integration measures in their fields.
In addition to state organs, municipalities participate in the organisation of migrants' integration, as provided for in the Law on Legal Status of Aliens. Given that the Law does not specify the role of municipalities, their involvement remains limited. Efforts are nevertheless made at the national level to overcome structural challenges and to establish systematic coordination and cooperation between different governance levels. For example, in September 2016, the Ministry of Social Security and Labour appointed integration officers in certain municipalities.
Civil society
Civil society takes part in the Commission to Coordinate the Implementation of Foreigners' Integration, as provided in the 2013 amendment (art. 109) of the Law on the Legal Status of Aliens. Currently. Its members include ministers, deputy ministers and other representatives from the social, interior, educational, culture, finance, foreign and health ministries, as well as experts from the government,  the Refugee Reception Centres, the Association of Local Authorities in Lithuania, the Lithuanian Social Research Center, as well as non-governmental and international organisations.
Funding
EU funds
Non-profit organisations and local authorities can apply for financing through several EU funds. In addition, national and private funds are made available for service providers and other stakeholders to carry out projects aiming for a better integration of the migrant population.
The information below will be updated once the 2021-2027 national programmes under the EU funds become available.
Asylum, Migration and Integration Fund (AMIF) in Lithuania
European Social Fund (ESF) in Lithuania
Details: The Lithuanian multi-fund operational programme aims to boost Lithuania's economic development, as well as to tackle a number of issues including social exclusion. The ESF contributes with over €1 billion, of which close to 10% is dedicated to facilitating social inclusion with focus on the educational system.
National managing authority: The national managing authority for ESF in Lithuania is the European Social Fund Agency under the Ministry of Social Security and Labour
Other EU funds for integration available in Lithuania
ERASMUS+, the EU's programme to support education, training, youth and sport in Europe
National managing authority: the national agency Education Exchanges Support Foundation
European Regional Development Fund (ERDF) to strengthen economic and social cohesion in the EU by correcting regional imbalances
National managing authority: Central Project Management Agency
Fund for European Aid to the Most Deprived (FEAD), offering material assistance to the most vulnerable or in need
National managing authority: European Social Fund Agency under the Ministry of Social Security and Labour
European Agricultural Fund for Rural Development (EAFRD), supporting the development of rural economies and communities
National managing authority: National Paying Agency under the Ministry of Agriculture of the Republic of Lithuania
European Maritime and Fisheries Fund (EMFF)
National managing authority: National Paying Agency under the Ministry of Agriculture of the Republic of Lithuania; EMFF supports coastal communities in diversifying their economies and finances projects that create jobs and improve quality of life along European coasts
Other funds
Other stakeholders and useful resources
Providing integration services
Implementing the integration programme
Campaigning
Publishing research and statistics
***
Diversity Development Group is a national coordinator for European Website on Integration. Find out more information on other European countries and their migrant integration governance on the European Website on Integration (EWSI).