Photo exhibition | The Crossroads of stories

"The Crossroads of Stories" –  the portraits and narrations of migrating people.
This exhibition tells stories of immigrants and refugees. From Venezuela to Cameroon, from Ukraine to Afghanistan. They came to Lithuania for a variety of reasons and in different circumstances. Some migrants are here for a brief period of time, some plan to stay for the rest of their lives, others spend their days in a school turned to a refugee center or Pabrade Foreigners' Registration Center. Some of them sing and play in a music band, others dance Twerk, or provide translations.
Different stories of them all meet in this exhibition, as well as in recent (or soon to be issued) publications on the website of NARA.LT
Photographies: BERTA TILMANTAITĖ and KAROLIS PILYPAS LIUTKEVIČIUS
| YULIA | 
Hailing from Kyiv, a young Twerk and High-Heels dance teacher Yulia has been living in Lithuania for a couple of years now. As she tells us, she came to love Lithuania while studying in Šiauliai with Erasmus+. Today, the young woman owns a dance studio in Vilnius and is planning her future here.
Her decision to settle in Lithuania became a salvation for her family, namely mother Elena, sister Sonia and grandmother Liubov, when the war started in Ukraine. Yulia helped the women, along with their little dog Snoop Dog, to come to Lithuania, housed them and looked after them. However, after a month in Lithuania, Yalia's mother got a call from her work, asking to come back. So all three women are back in Kyiv now, leaving Yulia in Lithuania.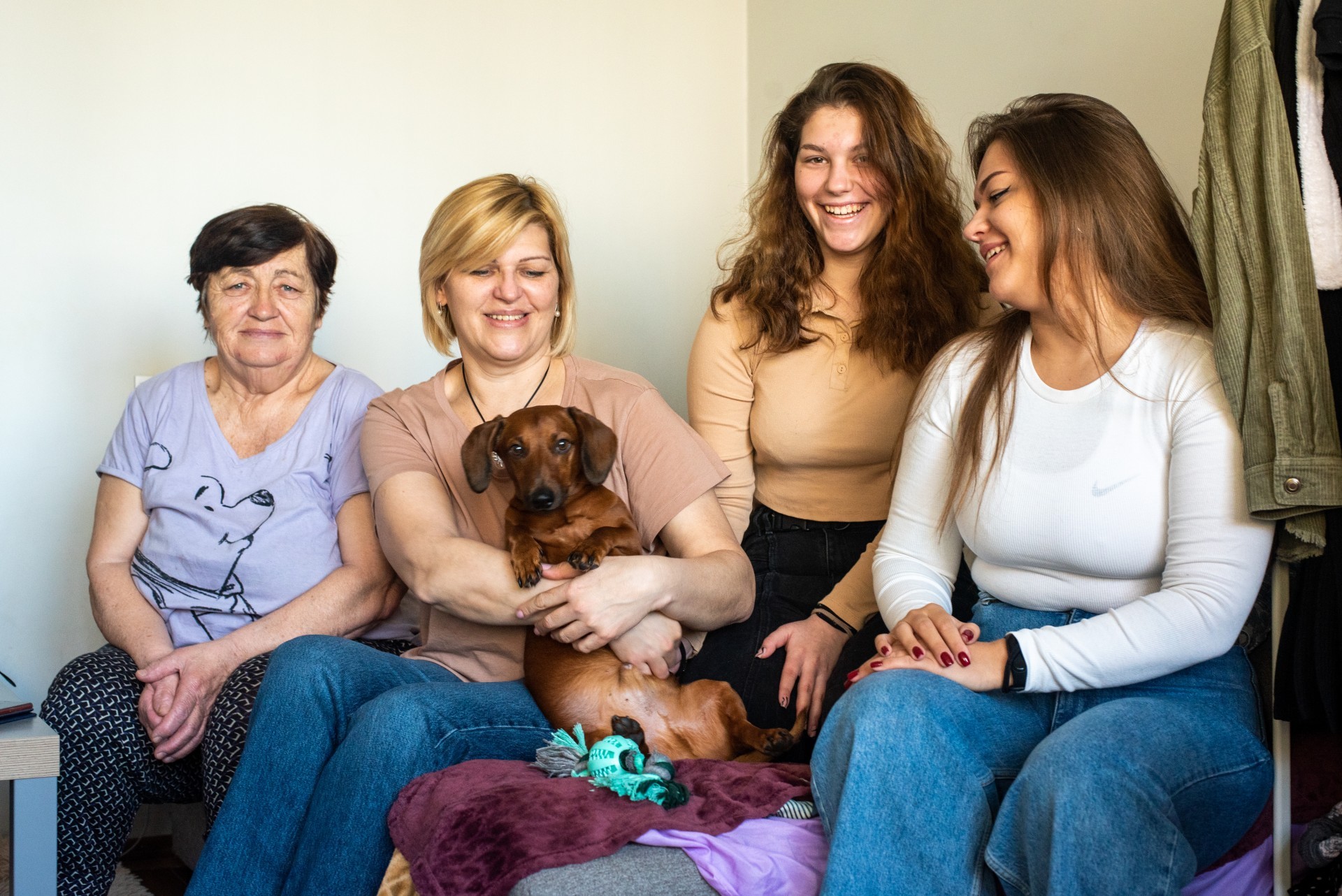 | JOEL | 
Joel came to Lithuania from Cameroon. At first, he moved to Belarus, where, as he tells us, Joel lived and studied for some time but eventually decided to cross the border into Lithuania. Here he was accommodated in one of the refugee centres – an old school in Vydeniai, Varėna district. In the picture he is wearing a T-shirt he found amongst the clothing donated to the refugees. "Gyvenimas" means "Life" in Lithuanian. 
Listen to the episode "A Challenge for Humanity"/ "Iššūkis žmogiškumui":  here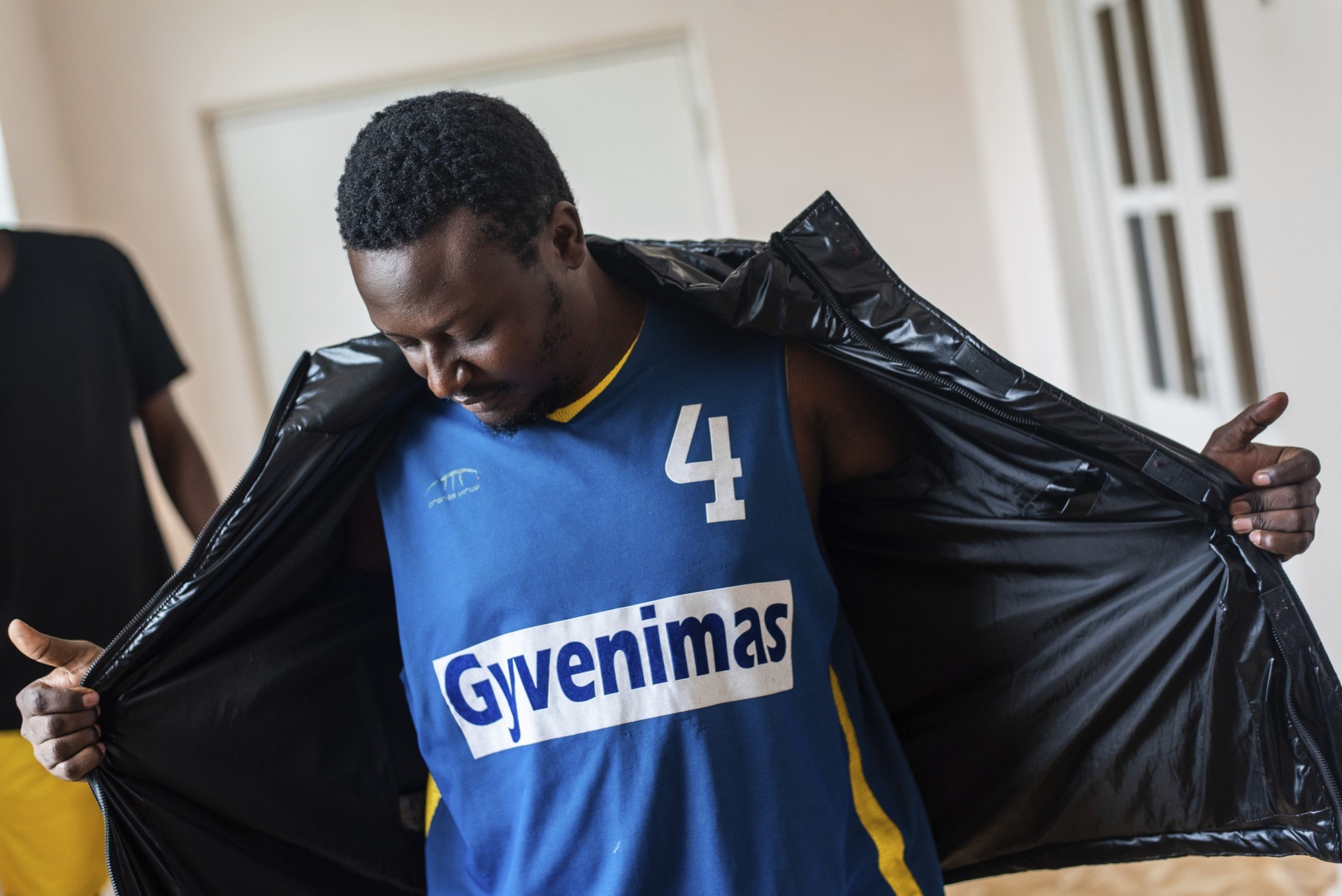 | HIVI | 
Hivi is thirteen years old. She was born and had lived in Kurdistan, Iraq, up until last year. She arrived in Lithuania with her parents and her uncle's family. While she was living in Kurdistan, Hivi attended an international school. She was keen on learning, one of her dreams being to become a scientist. At school, she learned to speak English really well. In Lithuania, she is living in the Foreigners' Registration Centre in Pabradė and so far has only had an opportunity to take Lithuanian language lessons. The remaining subjects Hivi has yet to be able to take.
However, Hivi does not have a lot of free time. She helps people detained in the refugee centre to talk to each other, to social workers, nongovernmental organisations, security guards and border guards. Not a lot of refugees speak English or Russian. Thus, Hivi's help is needed badly. Even though Hivi likes translating, such work still takes a toll on her. In her free time she likes listening to K-pop music and the South Korean band BTS is her favourite. Hivi and her family are religious, so a part of her day is dedicated to daily prayers as well.
Listen to the Episode "Language Shouldn't Be a Curse, It Should Be a Blessing" / "Kalba turėtų būti ne prakeiksmas, o dovana": here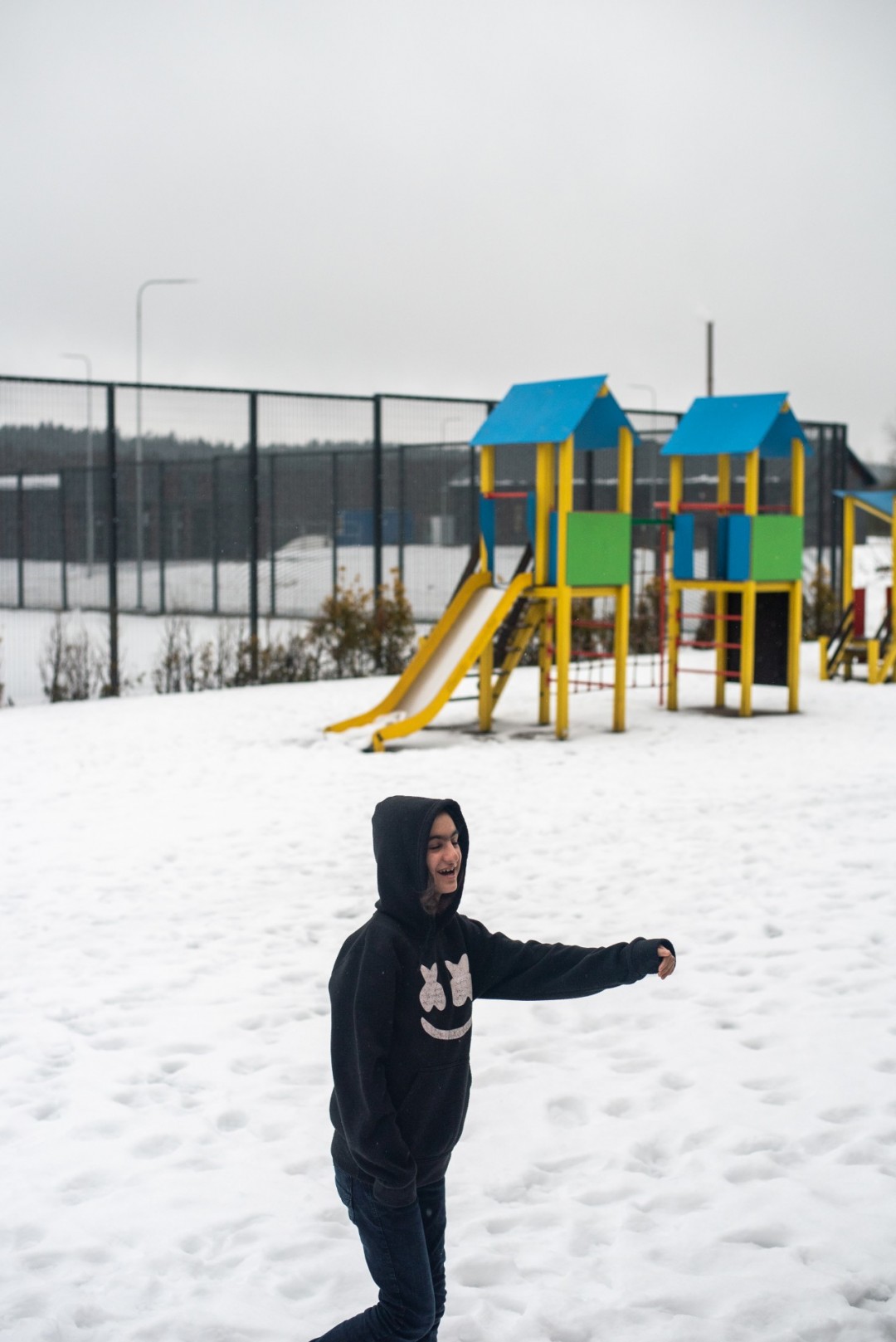 | ABDULLAH | 
Abdullah grew up in Afghanistan. He has been living in Lithuania for three years now. Self-taught guitar player, Abdullah has been playing the instrument for more than seven years and is both the vocalist and guitarist of the band "Uphill 7".
Abdullah sees music as an imaginary, pleasant world that you create in your head while listening or creating in. It is one of the reasons why he partakes in music.
Abdullah's family and relatives live in the United Kingdom. He hopes to meet them one day.
See the photo story "Music as an Antidote to Absurdity"/ "Muzika – kaip priešnuodis absurdui": here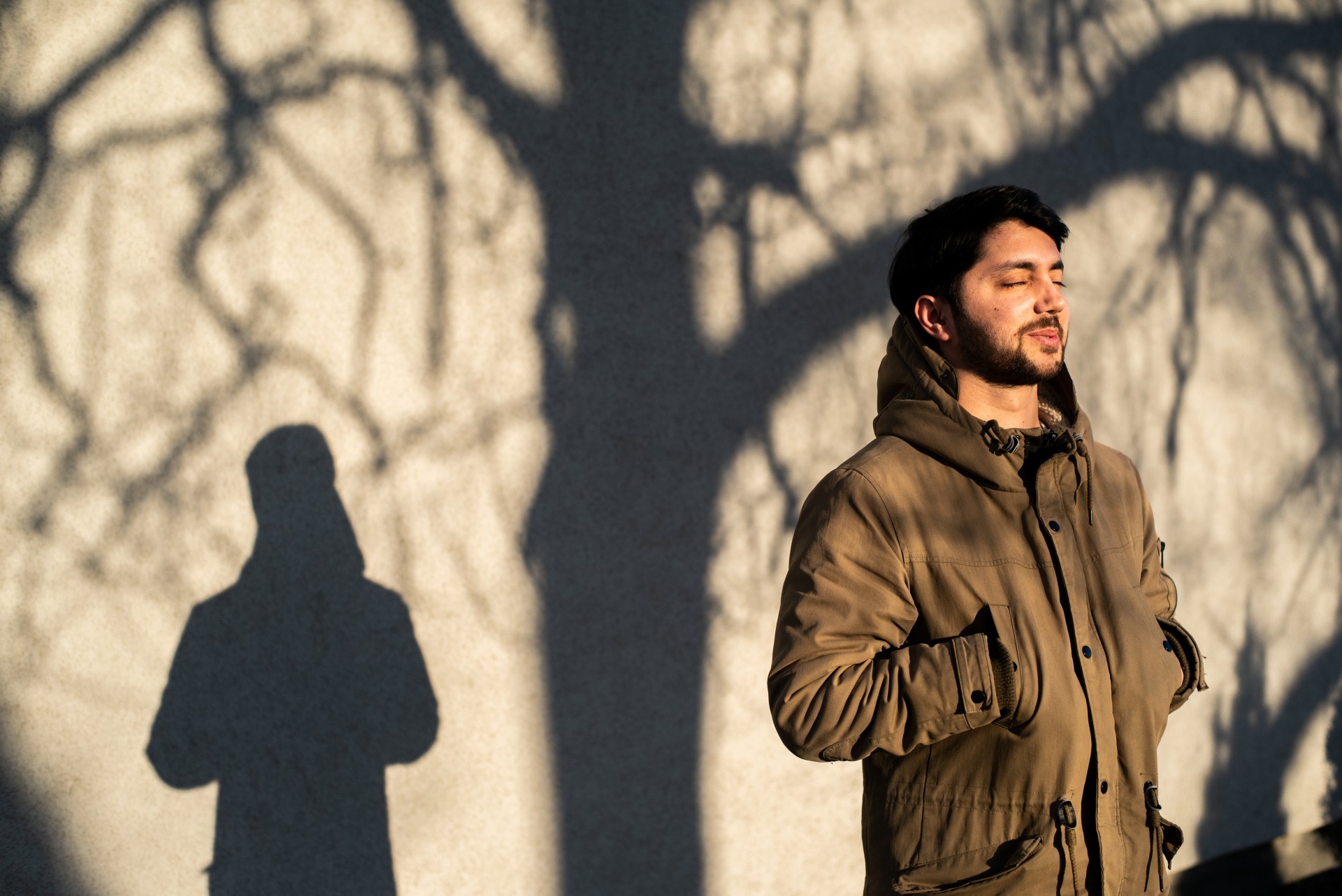 | NAVADHARSHAN | 
Navadharshan from Sri Lanka has been living in Lithuania for four years. He had to leave his motherland because his job revolved around searching for people that had gone missing during the civil war. Navadharshan says that engaging in such activity was too dangerous in the face of corrupt authority.
At the moment Navadharshan lives in Pabradė, which he already calls home. His plans are to open a little Sri Lankan restaurant and to create music with the band "Uphill 7", in which he is the second lead vocalist.
See the photo story "Music as an Antidote to Absurdity"/ "Muzika – kaip priešnuodis absurdui": here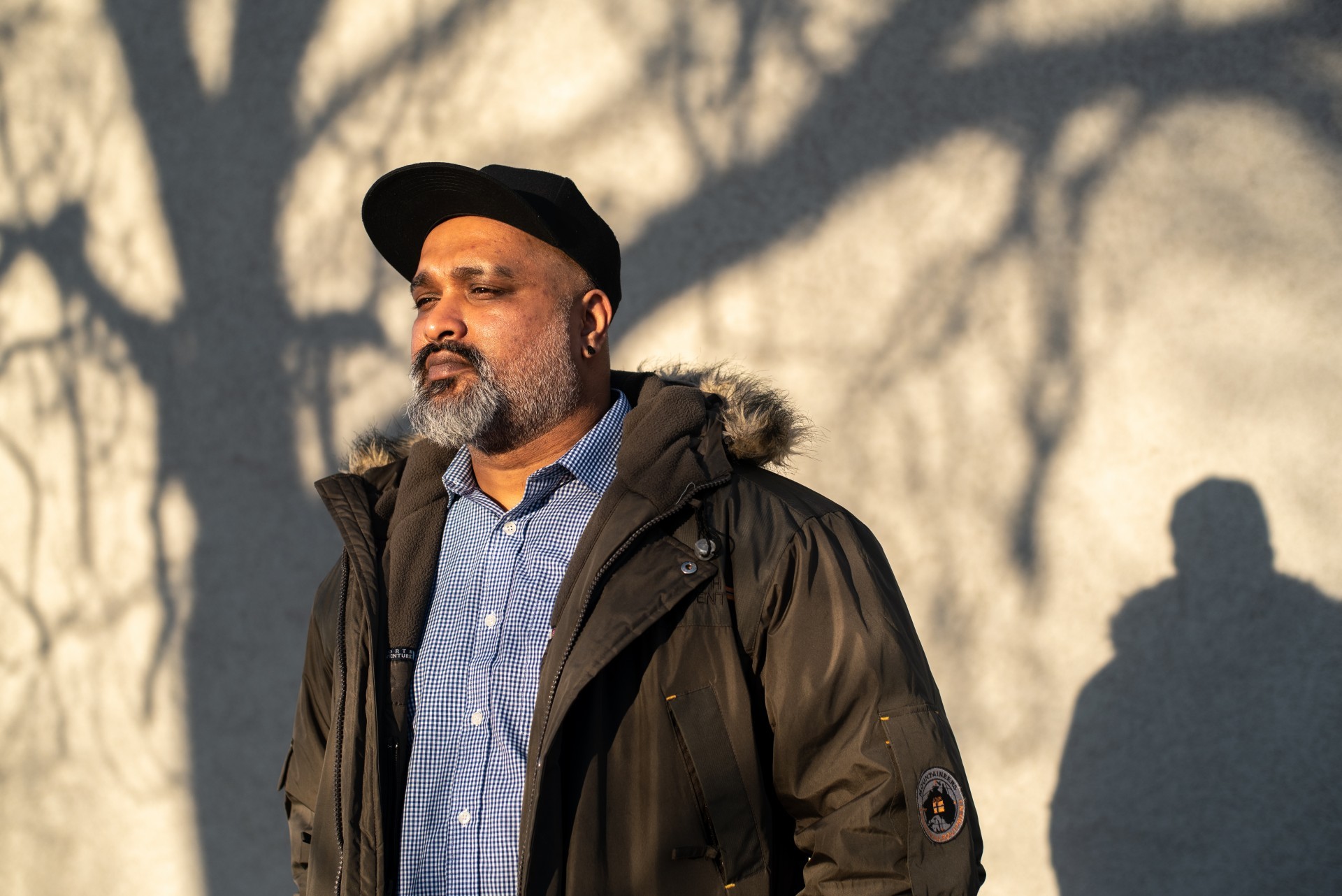 | ANA |
Ana Baronas de Zavadzkas came to Lithuania in August of 2020. Ana was born in 1955, she is a Lithuanian Venezuelan. Her grandparents were Lithuanians from Kaunas, her grandfather was in Šauliai (Lithuanian Riflemen's Union). Thus, when World War Two began and the Soviets came they were forced to flee the country to escape being deported to Siberia. That's how they ended up in Venezuela.
For the last twelve years in Venezuela Ana worked as a translator alongside the Lithuanian consulate. But as her husband's health declined, the woman made the decision to move to Lithuania. After gathering the required documents and passports, the family succeeded – Ana came here with her son and husband, yet he passed away in half a year.
Now Ana is renting a flat in Kaunas and is volunteering to help other Venezuelans with Lithuanian roots gather the right documents in order to come to Lithuania. Finding a job as a retiree is hard even for Ana, fluent in Lithuanian.
A little over a year later her brother Antanas (Antonio) came to Lithuania as well, together with his wife. A considerable part of Lithuanian Venezuelans gathers for Sunday mass in Kaunas, which is held in Spanish. Here Ana knows everyone, they all chat and discuss their concerns after the mass. Most often they are regarding how their relatives in Venezuela could come to Lithuania. The woman dreams of a time when there will be more Lithuanian Venezuelans here so she could work as a translator, converting from Spanish to Lithuanian, or vice versa.
See the video story "When Venezuela Fits into Three Suitcases"/"Kai Venesuela sutelpa į tris lagaminus": here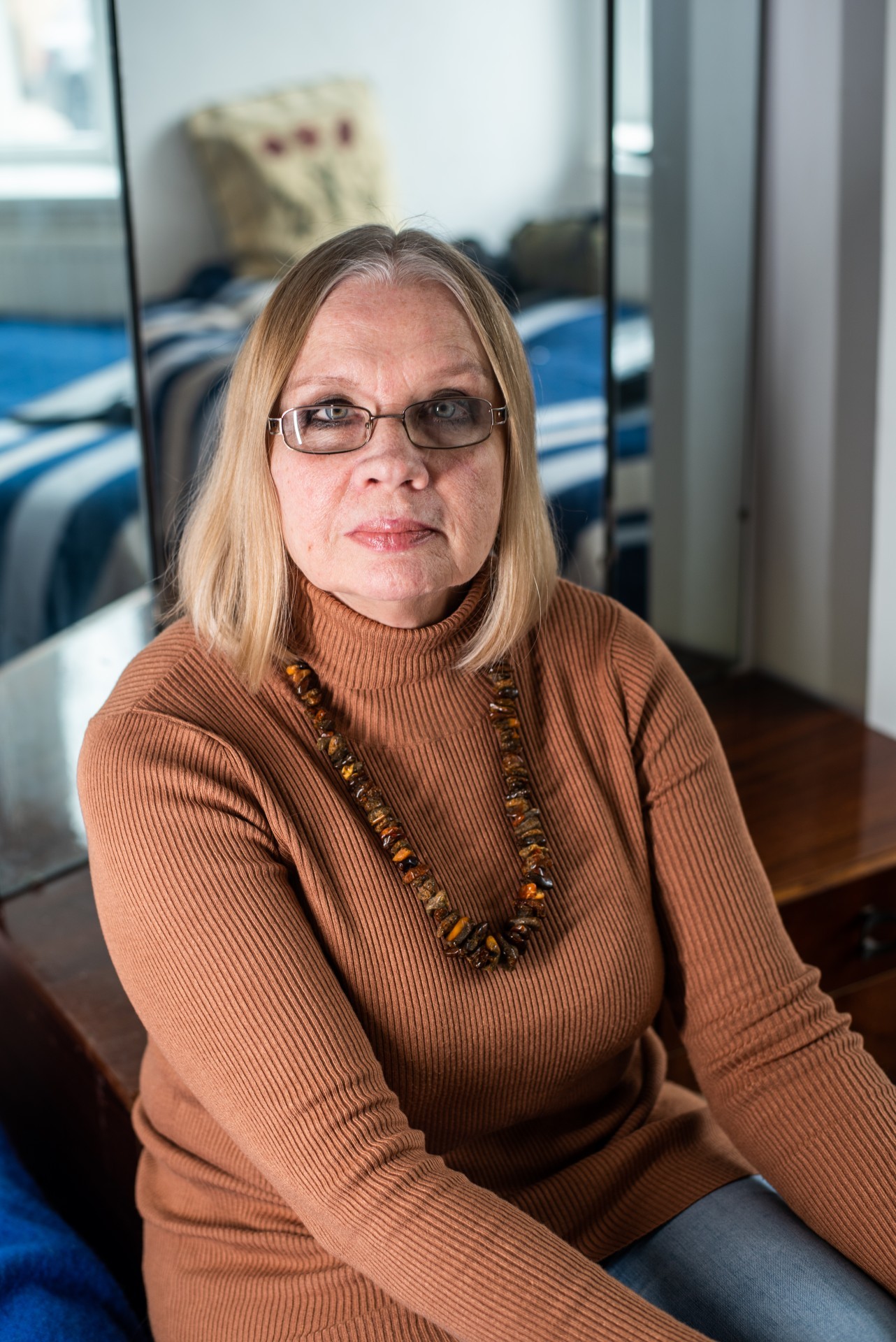 | CYRILLE | 
Cyrille, alongside his girlfriend, came to Lithuania through Belarus from Togo. Both of them were accommodated in a refugee centre, established in Vydeniai school. Because of his love for basketball, Cyrille spends most of his time in the school's gym, where he plays with others or shoots the ball by himself.
The text "We are Protecting the Borders of Lithuania. But Who Will Protect the Soul?"/ "Mes giname Lietuvos sieną. O kas apgins sielą?" can be read: here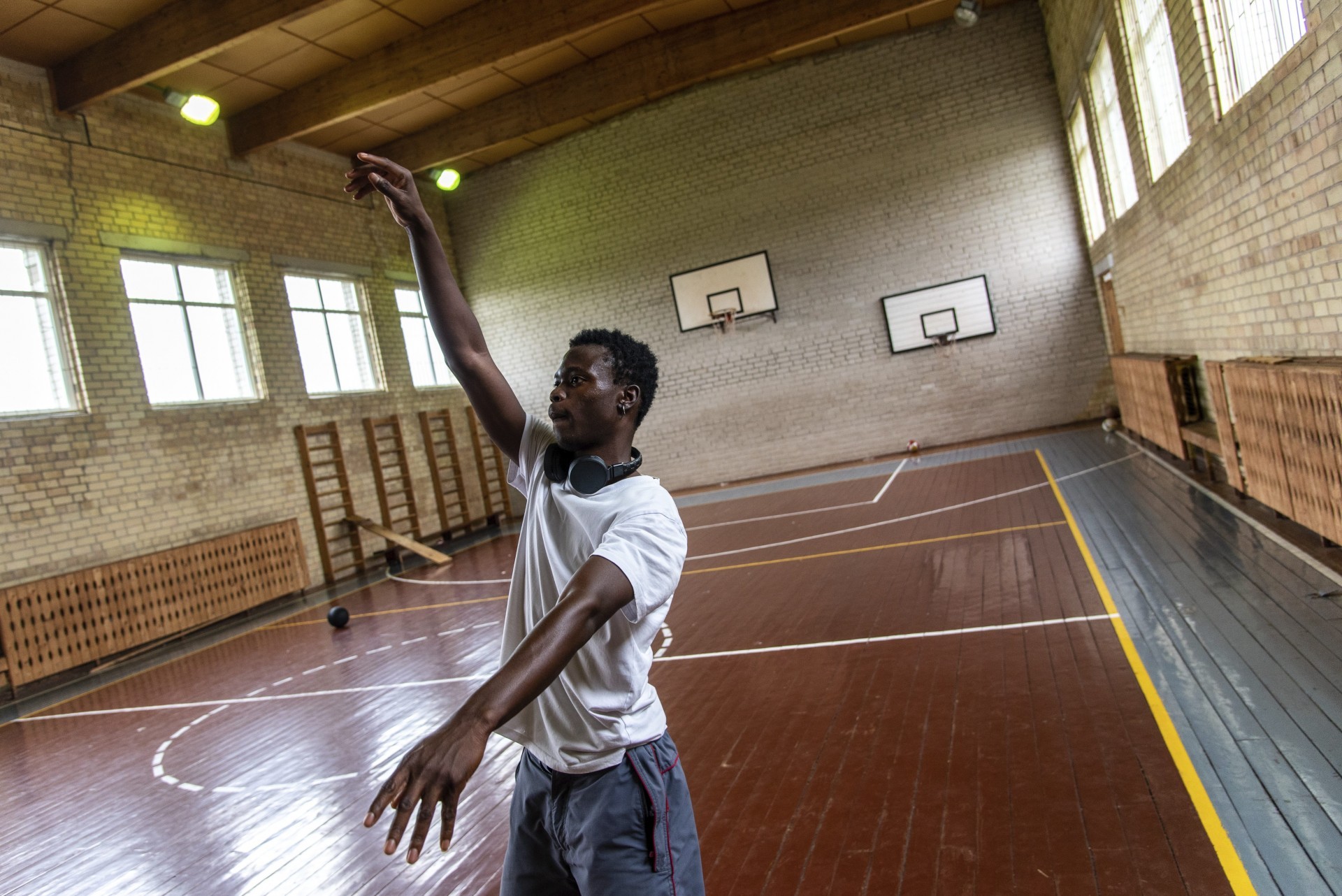 | SALAH | 
Salah has been living in Lithuania since the autumn of 2021. He has a degree in English Philology and came to work as an interpreter in refugee detention centres. Salah translates to English from Kurdish and Arabic. He lived in Greece before, where he had come a few years ago. Salah was given the status of a refugee. Yet in Greece Salah was struggling to find work in his occupation, thus, apart from translating he also had a job in a cafe. It took a lot of effort to integrate into the society and to move to a district with more local Greeks and not only the migrant community.
Listen to the Episode "Language Shouldn't Be a Curse, It Should Be a Blessing" / "Kalba turėtų būti ne prakeiksmas, o dovana": here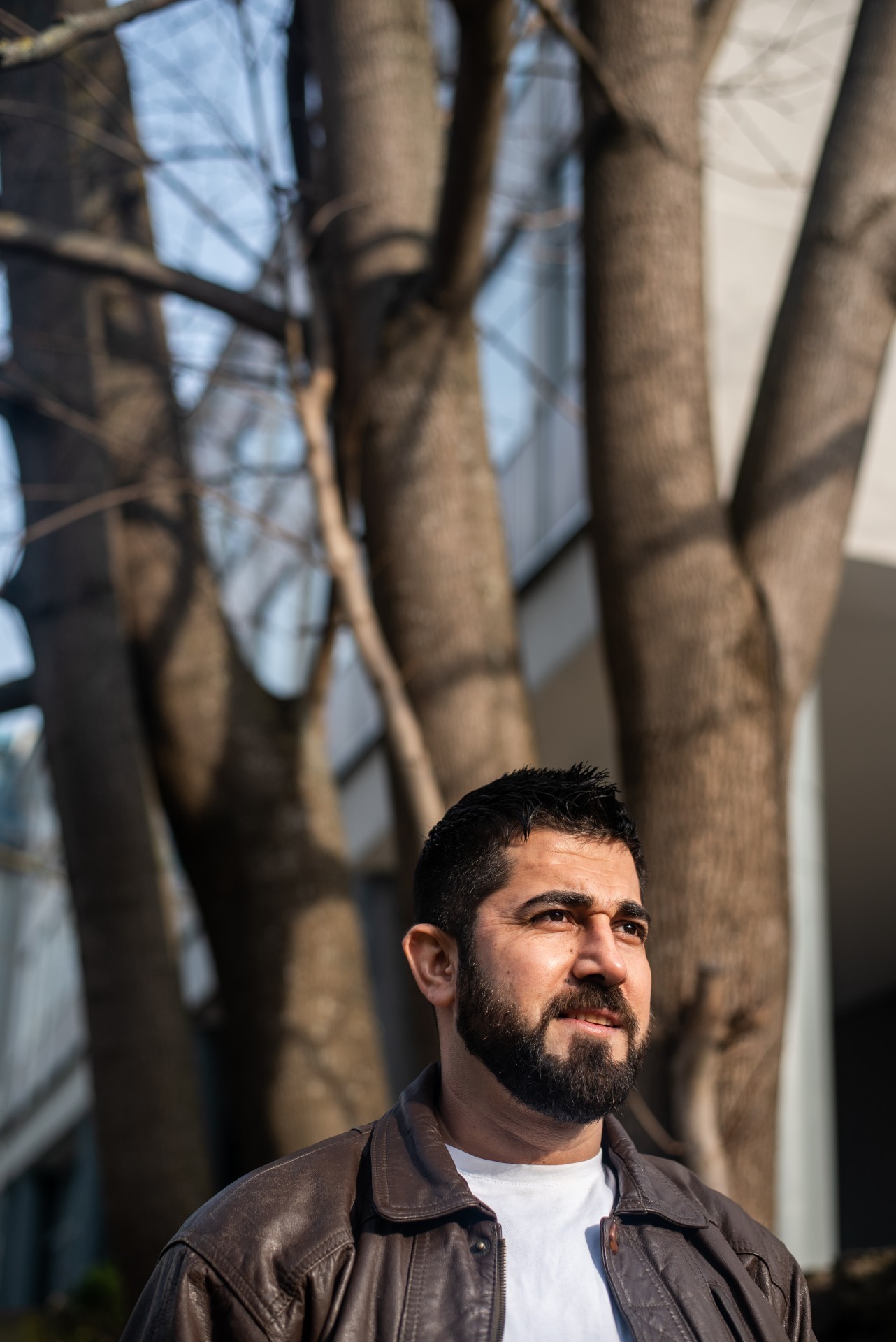 | PERI | 
Peri is a Kurd philologist and director living in Scotland. Peri came to Europe after the region he lived in suffered a chemical weapon attack during the Iran-Iraq war. It happened in 1988. So Peri became one of the earliest refugees in Scotland. At the time, the society was very open and wanted to accept people running from conflicts in other countries.
Now Peri works as a translator from Kurdish and Arabic to the English language. In this way, he helps the migrants and locals understand each other. Peri speaks a total of seven languages, one of them being the new Aramaic – a language spoken only by around 450 000 people around the globe. Peri mostly translates orally. Thus, his workplace is usually refugee detention, integration centers, hospitals, educational institutions, and courts. Peri also arranges integration courses for new-coming immigrants in Scotland. He worked in Lithuania for a few months to help those refugees that only speak Kurdish or Arabic, while Lithuania lacks translators from these languages.
Listen to the Episode "Language Shouldn't Be a Curse, It Should Be a Blessing" / "Kalba turėtų būti ne prakeiksmas, o dovana": here 
"Kurdi", a film about Peri, directed by Doug Aubrey, can be watched: here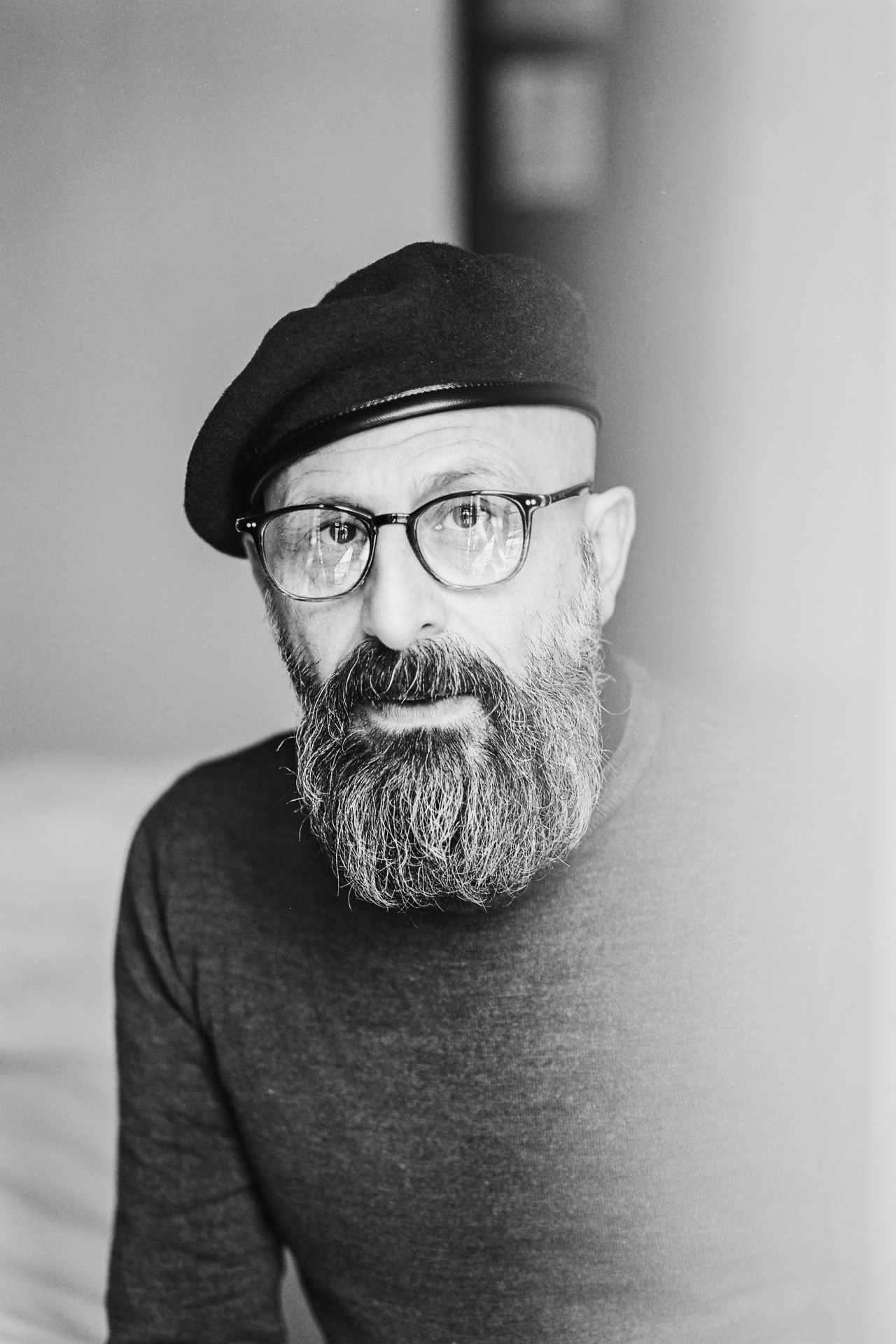 | HONORÉ | 
Honoré worked and studied in Togo, but after participating in students' protests against the fifty-year-old reign of a father and son duet, Honoré was arrested. During the resistance to the government, he lost five family members and a few friends, so he decided to flee Togo through neighboring Ghana, and later Belarus to Lithuania.
Honoré has been living in Lithuania for eight months now, all of them spent in the Pabradė Foreigners' Registration Centre. Here he actively participates in the musical meeting organized by educator Giedrius Milkeraitis. Honoré picked up the music while still living in Togo – he sang in a choir and played the drums. He says that it's a good way to share your thoughts with others and to find peace within yourself.
See the photo story "Music as an Antidote to Absurdity"/ "Muzika – kaip priešnuodis absurdui": here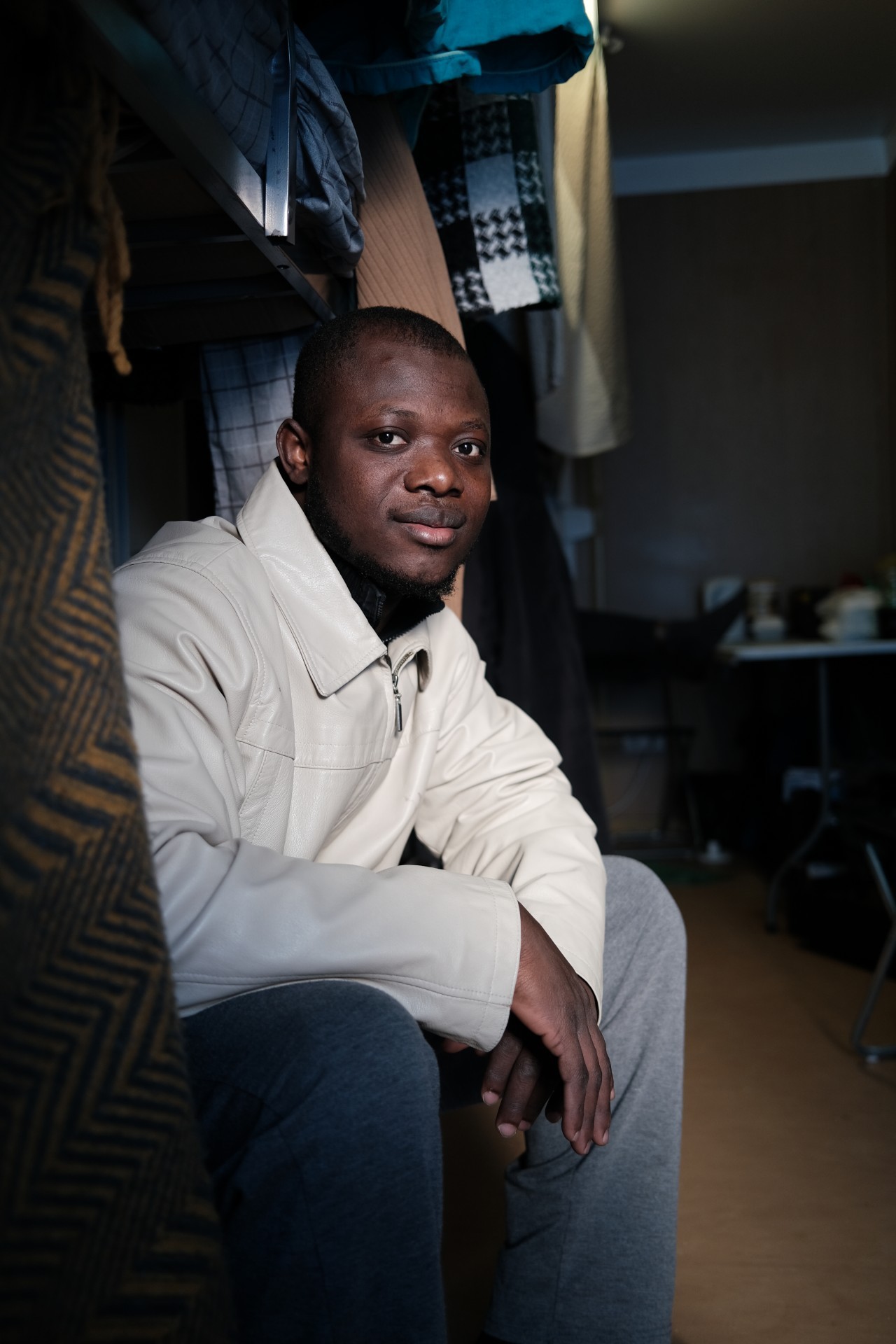 Photo: Karolis Pilypas Liutkevičius
ABOUT THE AUTHOR
Having traveled and worked in five continents and more than 60 countries, Berta returned to Lithuania to create NARA (formerly Nanook). After graduating from Vilnius University with a degree in journalism and a course in photojournalism at the Danish School of Media and Journalism, Berta went on to earn a master's degree in
multimedia journalism (Beijing University of Foreign Studies [China] / Bolton University [UK]). Working as a freelance multimedia journalist, Berta has lectured at Vilnius and Gediminas Technical universities. She also leads various training courses and creative workshops.
Using her free diving skills, Berta looks for stories underwater as well as on land. Her work revolves around the connection between human beings and nature, and social problems and culture. Berta's photo and video stories have been published in National Geographic, Al Jazeera, GEO, Wired, Geographical Magazine, Deutsche Welle, Der Spiegel, and many other media outlets in different countries. Berta has won awards at international competitions and festivals for her work.
"Journalism allows me to enable my sensitivity. It is a tool to talk about what is interesting or disturbing. Through the connection I form with my subjects, the heroes of the stories, I can begin to better understand the principles of how the world works, see connections, and get to know humanity. Discovering the best way and form to share
it with others is also an important part of that process, as growth and change happen collectively," says Berta.
Write me – berta@nara.lt